"لذلك أقترح وأؤمن بشدة بما أقول وهو أن لمصلحة الإنسان في هذا العالم أن يبحث عن أهداف ومستويات أعلى وليست أدنى طيلة حياته بل أن الخير الأمثل لأي حكام وزعماء لهذا المجتمع هو أن يسعوا لترفيه ورفع مستوى شعوبهم إلى أعلى درجات السلم البشري للوجود والحياة"
كلير و. جريفز
United Nations Presentation
From the Clash to the Confluence of Civilizations:


Reshaping the United Nations to Close the Great Global Divides.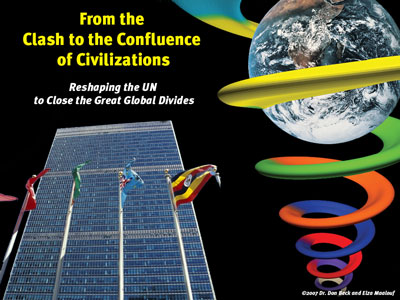 Download Flyer

Date: Thursday, June 21st, 2007,
Time: 1:15 p.m. - 2:45 p.m.
Location: Church Center,
777 United Nations Plaza,
2nd floor.
This presentation will get to the core of issues around the world, from reframing solutions in Africa to creative ways to defuse the hot issues in the Middle East.
While many speak of worldcentric solutions, few truly understand how to design a poly-lateral, distributed intelligence that could enhance United Nations operations in virtually all of its functions.

Dr. Beck is no stranger to global problems. He made 63 trips to South Africa as one of the architects of the transformation out of apartheid. Now he is active in Palestine with Elza Maalouf, in finding new ways to deal with the conflicts between Fatah and Hamas, and Palestinians and Israelis.

His work reflects a fresh understanding of human nature and is based on more than five decades of academic/scientific research, as well as many specific applications in "the real world."  He recently joined with several Mexicans, in working with the Mexico Teacher's Union, to design education for the entire country of Mexico.
Dr Beck has the big picture, large scale, and flow state perspective which, when understood and applied, makes possible dramatic shifts in problem-solution sequences. There is nothing else like this approach for the 21st Century, as it moves beyond the pre-modern, modern, and now post-modern perspective to describe in considerable detail the Integral Age, and how 6.7 billion "earthlings" can collaborate and prosper to move beyond "us vs. them" conflicts. A thrive and help thrive approach.

Dr. Don E. Beck is the Founder of the Global Center for Human Emergence and the coauthor of The Crucible: Forging South Africa's Future (with Graham Linscott, 1991) and Spiral Dynamics: Mastering Values, Leadership & Change.
Dr. Beck made 63 trips to South Africa, and had a significant impact on political leaders, the business sector, religious leadership, and the general public. He was honored in 1996 by a joint resolution of the Texas House and Senate for his invaluable contributions toward the peaceful creation of a democratic South Africa.

Elza S. Maalouf is the co-founder and CEO of the Center for Human Emergence-Middle East. She was born in Lebanon and is a former attorney and business executive. Elza is now leading innovation within the Arab world to identify complex thinking that will unblock many of the stalemates and facilitate the emergence of Arabs into their 21st century Renaissance. She is engaged in various integral projects in Lebanon, Syria, Palestinian Territories and Kuwait.